So as I predicted in my last entry, within two days my nail polish was somehow chipped. :\ Great going, self! Haha
The chips aren't as seen here but when I'm holding my macaron you can really see it. Hassle. :(
Good thing my Shatter fairy came to me with a surprise! Yaaaaayyy :D I'd been looking for these for a while and apparently, one of my friends was so desperate to get her hands on them (or rather, them on her hands! Haha) that she had to order a whole lot of bottles in bulk for it to be shipped here to the Philippines, and crazy girl actually did! But had she not done that, I would never have gotten my polish fix :D
Honestly, this shade is not me at all. :| Haha! It's my first time to EVER have black polish, or any dark color for that matter on my nails. I had heard about nail polish that cracks by itself, and when I heard that Katy Perry collaborated with OPI to make one, I was instantly sold. I heard about this as early as October, but never really took initiative to buy it until I mentioned it to some friends and found out that we knew someone who was selling. Haha!
So here it is! Isn't it amazing, how girly hot pink can instantly turn punk rock with just a bit of black? Actually, not a bit. A LOT of black! Haha! Right after I had my dinner I applied the shatter on my nails. Here you can see it without the top coat, so it's a little matte. I read around that it flakes off if not sealed off with a top coat, so I was sure to put that on.
This is what the finished product looks like when dry and ready. What impressed me most is how fast the actual polish dries and how it cracks right before your eyes! I must say that I didn't really like it at first. It's so not me! But after a few hours of looking at my nails from time to time, they grew on me. Haha! I will look for a better color combination eventually though. I'm just saving a manicure gone bad here. :P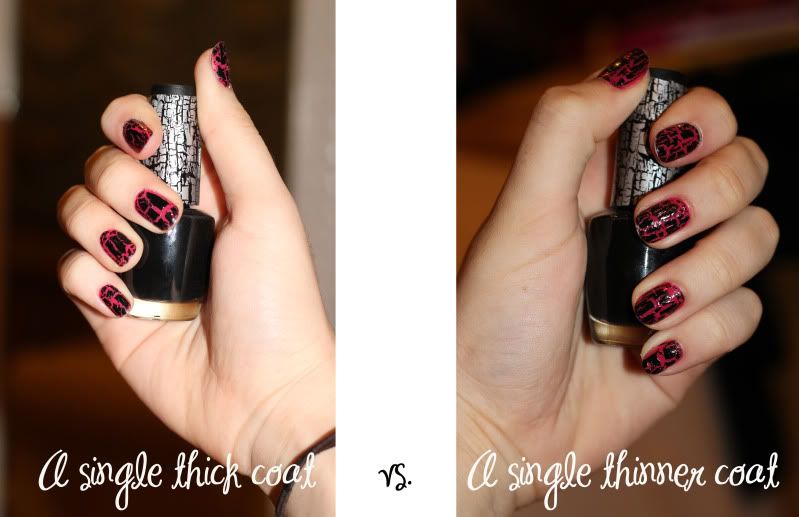 I also wanted to show you guys the difference with applying one thick coat and a thinner coat. With the thick coat, the pieces are bigger, especially seen on my middle fingernail. On the thinner coat, the breaks are smaller (and nicer, in my opinion) so the goal isn't really to cover the entire nail as if you're painting it with a regular polish. It will look good, no matter how sloppily you put it on! That's also one thing that I like about this Shatter. You don't have to apply it evenly or nicely, either way it'll look good :)
So there, hope you guys like it! Like I said, I'll like it better when I find a better color combination. HAHA :)
For those interested in buying a bottle of OPI Black Shatter, please text Gabbie at 0917 562 3020.