I have a crazy sweet tooth, but the queen of all sweets for me is the macaron! These aren't the coconut-flavored cookies my grandma makes. Macarons are meringue-like cookies with almond paste as the main ingredient, sandwiched together with a filling in between. Now this hasn't always been the case, Macarons were served since the early 1500s (or possibly even earlier) as the cookies only, not sandwiches, two by two and with jam and butter. The one who revolutionized macarons into the Paris Macaron sandwiches was Pierre Desfontaines of the French pâtisserie Ladurée, and they're really known to make the best macarons. :) I had so many of these in Paris when I went two summers ago, and I can't wait to go back!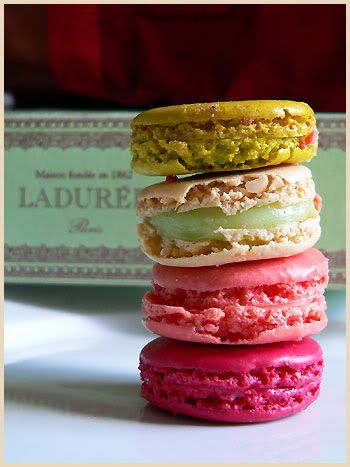 My obsession for macarons only started on that trip to Paris. Before I went on the quest for the best macarons in the Philippines, I found Bizu's to be too crunchy and bland. Within a week of my return from Paris, I started looking immediately, and I'm glad to say that I found them!
Georgia Rocha's Empire macarons
are the winner.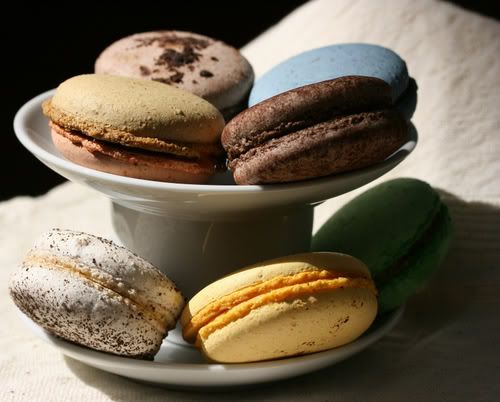 Soft inside yet crunchy on the outside, sweet, bursting with flavor and pleasing to the eyes! Those are the perfect macarons. :D I fell in love with these mostly for the texture. It's obvious that Georgia is a chocolate lover because most of her flavors are chocolate based! Cookies and cream, triple chocolate, white chocolate and strawberry-chocolate are just a few of her many flavors.
I'm glad that I was finally able to catch the baker's dozen and get some of these, I finally had my macaron fix!
Saira